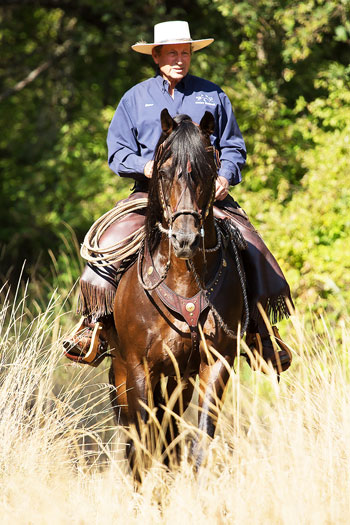 EITAN BETH HALACHMY
Eitan Beth-Halachmy is one of the most influential and original Industry leaders of this living generation.  Eitan Beth-Halachmy quintessentially represents the qualities you are seeking to recognize:  "sustained outstanding contribution that [has] made a profound impact on the equine industry.  Please extend this Award to recognize Eitan Beth Halachmy's "ingenuity, originality and effective innovation that exemplifies commitment, dedication and service to [the Equine] Industry."
In so many areas, including courage, leadership, teaching, and influence, Eitan Beth Halachmy is one of those standout individuals that appears only rarely, and who changes, forever, those who have listened to and learned from his message.
In practical terms, Eitan Beth Halachmy has invented an entirely new Equine Discipline, one that has been seen worldwide, and which is now being embraced worldwide.
COWBOY DRESSAGE
His insights, teaching methods, training criteria, and, most importantly, the judging rules and standards that he has established, show not only leadership, but contribute a positive force to challenge  the status quo, in terms of defining advanced understanding and interaction with horses.
For 55 years, Mr. Beth Halachmy has been refining his skills and insights; he has performed as a featured Act in the Opening and Closing ceremonies at the 2006 and 2010 World Equestrian Games; his Demonstrations have been viewed by hundreds of thousands of people worldwide; he has lead the way to found a Global organization spanning countries located on four continents, giving rise to dozens of National and State chapters; he has given hundreds of Clinics worldwide; lectured with Dr. Robert Miller, whose groundbreaking work on imprinting in horses has helped to inform and guide Eitan's teaching and training methods.  Eitan Beth Halachmy has created books, monographs, videos, anatomical and scientifically sound illustrations and drawings, and, more than anything else…he has created new understanding of gaits and ways of travel, all of which are emphasized and taught using his new competitive Discipline:  Cowboy Dressage.  Indeed, he even designed a revolutionary new Cowboy Dressage Court that is based on biomechanics, not just tradition, and in this, above all, he has shown leadership and courage to challenge the status quo.
Further, Eitan Beth Halachmy has…
Co-founded the Light Hands Horsemanship Clinic; influenced and taught Prize Winning Trainers, such as (1) Jack Brainard, who has been inducted into the National Reining Horse Association Hall of Fame and Iowa Quarterhorse Hall of Fame; (2) Richard Winters, World Champion in National Reining Horse, Road to the Horse and Monte Roberts Equitarian award; (3) Breeders such as Sheila Varian, Co-founder and Director of the Arabian Breeders Association; (4) million-dollar Prize winners  such as Craig Johnson; (5) collaborated with author, TV personality and Program Host Rick Lamb; (6) spoken to audiences internationally from Brazil, France, Australia, Venezuela, Germany, Israel and even from the ranks of senior membership of the FEI, such as Leopoldo Palacios, (7).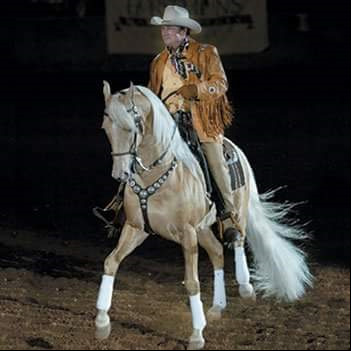 Most importantly Eitan is an immigrant who came to his country for one reason…his love of horses and the legend of the American Cowboy. It has been an amazing journey from a young shepherd in the hills of Jerusalem to his accomplishments today. He is living his dream…
In sum, Eitan Beth-Halachmy is a creative evolutionary force in the equine industry.
His courage to redefine teaching practices and judging practices will challenge ALL equine disciplines, based on his insights which are scientific, rational, deeply humane, and compassionate, and technically correct.
In practical terms, Mr. Beth Halachmy has challenged existing conventional wisdom in the defining of high-performance, technical prowess with respect to horse and rider movement. He has done so at the highest levels of technical and scientific understanding.  He has drawn upon his knowledge of anatomy, biomechanics, and a vast body of classical horsemanship training to devise his own set of insights attributable to no one else.  For Western disciplines, he has adapted classical equitation, Vaquero traditions, European and non-European skills dating back centuries, and made his insights appealing and accessible to equine enthusiasts, industry scions and devotees worldwide.  Eitan has influenced the largest member organizations for breeds in the U.S. such as AQHA, Morgan horses, all variety of warmbloods, mules, minis. Arabians,   He has founded a new competitive discipline that complements existing ones such as classical equitation and classical Dressage, all the way along the spectrum from pleasure riding to Olympic and WEG levels.
Originality – Influence – Organization – Leadership – Legacy
Often, truly independent original thinkers fail to achieve impact directly from their insights, because they do not have the leadership and organizational skills to put their ideas into widespread adoption and practice by others.
Eitan Beth Halachmy, however, has the benefit of a charismatic personality, personal courage, and true leadership skills.  With his partner and wife Debbie Beth Halachmy, through their global organization, Cowboy Dressage World, and its Board of Directors, Eitan has created the infrastructure to effectively spread their message and set standards, worldwide.   Cowboy Dressage World has given rise to various State and National chapters, whose goals are the establishment of accepted standards, teaching/training methods, and judging criteria.  With his extensive collection of teaching materials and guidelines, his years of headlining instructional Clinics and through the use of his widely disseminated Videos and Teaching Manuals, influencing literally tens of thousands of supporters and hundreds of formal alliance partners, this movement has managed to influence different equestrian disciplines and breeds, and has caused actual change across the world, from Venezuela and Brazil to France, Germany, and Australia.
Eitan has been the past recipient of the USEF Western Horseman of the year twice. He was also inducted into the American Morgan Horse Hall of Fame.
Because of all these important contributions, Eitan Beth Halachmy is highly respected horseman and educator, clinician around the world.
Accomplishments and Activities –
Websites, Commercial Business, Youtube Videos, Books, Video Teaching Series, Clinics, Competitions:
Facebook:  Cowboy Dressage and Eitan Beth-Halachmy
Cowboy Dressage Worldwide Chapters:    In the United States — WA, PA CA,NM, ID, OR, WI, Virginia, NY, TX, Minnesota, TN, KS, GA, UT, KY, MT,  OK, NB, Made for Mustangs, Vaquero Style.  Around the Globe:  Poland, Coffs Coast of Australia, Quebec CA, Germany, Saskatchewan CA, Alberta CA, Ontario CA, Australia, So Africa, Australia, Denmark, Brazil, Britain, Hungary, New Zealand, Germany
Here are some examples of the range and depth of Eitan's activities, and impact.  The following are just some of the events Eitan has participated in over the last few years.
Equitana USA the Mane Event, Louisville, KY 1996, 1998,2000
Equine Affaire, Columbus,OH 1997,1999
Dressage in the Wine Country, Santa Rosa, CA 1995, 1996, 1998, 2000, 2002
MidWest Horse Fair, Madison, WI.  2000/2001/2002/2008, 2014
Western States Horse Expo, Sacramento, CA 1999, 2000, 2002, 2005, 2009, 2010, 2012, 2013, 2014 and 2015, 2016
Pomona Horse Expo 2014 and 2016
EqWest, Del Mar, CA 1999/2000
National Western Livestock and Horse Show, Denver, CO 2001
Western Idaho Horse Fair, Boise, ID. 2001, 2002
Greater North West Equine Expo 2002, 2011
Nordic Natural Horsemanship Association, Sweden. 2002
Equus America Houston, TX and Kansas City, MO 2003
International Equine Congress, San Palo, Brazil 2004 and again in 2016
Ride the West Equine Expo, Spokane, WA 2006
Equifair, Grants Pass, OR 2006
World Equestrian Games, Aachen, Germany Closing Ceremony 2006
Equine Affaire, Springfield, MA 2006, 2013
Symphony of Horses, Gainsville, FL 2006
Equine Experience, Paso Robles, CA 2007
Light Hands Horsemanship, CA 2007, 2008, 2009, 2010, 2011, 2012, 2013, 2014
Road to the Horse Judge, TN 2010
Night of the Horse, Del Mar, CA multiple  years
World Equestrian Games, KY 2010, Opening Ceremony and Clinics
Rocky Mountain Horse Expo 2015 and 2016
Americana 2015, Germany
England and European Tour 2017
Many additional private and personal clinics throughout the U.S.
Eitan also has many videos on the market: Cowboy Dressage, Building the Foundation and Cowboy Dressage, Dances With Cows and Cowboy Dressage, Poetry in Motion I,  Cowboy Dressage Poetry in Motion II, Cowboy Dressage Understanding the Gaits and Cowboy Dressage Understanding the Court. His videos have been featured on Horsetv and RFD-TV.
Eitan has released a new training manual, Cowboy Dressage, Understanding Horsemanship from the Inside Out.
Feb of 2018 the BBC will air a segment on Eitan and his Cowboy Dressage
In 2015 Eitan and Trafalgar Square Publishing released a new book, Cowboy Dressage, Riding, Training and Competing with Kindness as the Goal and Guiding Principle. This book has been a number one seller for Trafalgar Square Publishing and a very high rating on Amazon.com
May of 2018 will see Eitan's second book co-authored by Dr. Jenni Grimmett. "Dressage the Cowboy Way"
Feature articles on Eitan and Training Articles by Eitan have been published in American Cowboy, Horse and Rider, Western Times, Equus, Ride, Equestrian Connection, Hastfynd, The Morgan Horse, The Morgan Connection, The Pacific Saddlebred, Saddlebred Journal, Trail Rider and the Waddie and USA Equestrian, Cowboys and Indians Magazine, Western Horseman, Yankee Pedler, Dressage Today to name just a few.
In 2007 Eitan had the honor of being featured in Dr. Robert Miller's new book, Natural Horsemanship Explained, From Heart to Hands.
2011 Inducted into the Morgan Horse Hall of Fame
Written by: Allyn Van Alstyne 2016
1,438 total views, 2 views today